Win 'Joe Celebrate the 80's vol 2' (4 cd-box)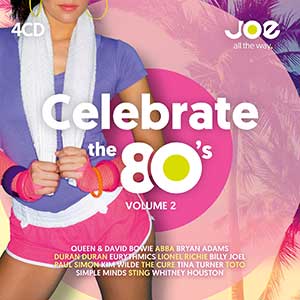 De hits van de jaren tachtig werden verzameld in de prima 4 CD-box "Joe Celebrate the 80's volume 2" met daarop o.a. Under Pressure (Queen & David Bowie), Summer Of '69 (Bryan Adams), The Reflex (Duran Duran), Sweet Dreams (Eurythmics), Dancing On The Ceiling (Lionel Richie), Uptown Girl (Billy Joel), You Can Call Me Al (Paul Simon), Kids In America (Kim Wilde), Annabel (Hans De Booij), The Best (Tina Turner), Africa (Toto), Alive And Kicking (Simple Minds), Boys Don't Cry (The Cure), If You Don't Don't Know Me Now (Simply Red), Englishman In New York (Sting), The Day Before You Came (Abba) en All At Once (Whitney Houston).
Hoe kan je deelnemen? Surf naar www.editiedendermonde.be/win en vul voor 15 juli het deelnemingsformulier in. De winnaars worden via e-mail op de hoogte gebracht. Succes!